Business and Corporate Law Attorney in Houston, Texas
All businesses need to have their go-to attorney. The daily operation of a company involves numerous situations where you may need legal advice. If you're an entrepreneur, your primary focus needs to be running your business. When you have a legal issue bearing down on your company, leave it to the professionals. A corporate attorney can help an entrepreneur perform essential actions for their business from its formation through its sale or dissolution. If you're a business owner in the Houston, TX area that needs a law firm to handle its corporate matters, call Steve Touchy Attorney at Law. Attorney Steve Touchy has practiced corporate law in Texas since 1983. During that time, he's garnered the skills and knowledge that a business owner needs to keep their company running smoothly. You can rely on Steve Touchy Attorney at Law as a seasoned professional to handle any issues your business faces.
Steve Touchy Attorney at Law is proud to serve businesses of any size. Call today for reliable, competent representation for your business.
The Benefits of a Business Law Firm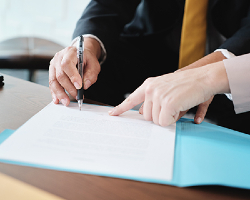 Every entrepreneur knows they need to keep a lawyer on deck for any disputes their company may face. However, most businesses will need an attorney before they even open their doors. A corporate attorney can help an entrepreneur choose whether they want to incorporate their business or register it as an LLC. While that might sound trivial, it can have huge tax implications on your fledgling company. In addition, a lawyer can file the necessary paperwork you'll need to get your business up and running. Steve Touchy Attorney at Law can guide you through this process including tasks like:
Filing your Articles of Incorporation or Articles of Organization: these documents determine who owns stake in the company and what their responsibilities are.

Registering your business with the Texas Secretary of State's office: the state of Texas maintains a list of all taxable entities. Your company needs to be on this list to legally operate.

Applying for your Employer Identification Number (EIN) with the IRS: your business will need this number to perform essential tasks like open bank accounts, pay employees, and file taxes.

Drafting bylaws: a company's bylaws dictate how it functions.

Applying for nonprofit status if applicable to your business.
Additionally, Steve Touchy Attorney at Law can function as your business' registered agent. In this capacity, he can receive notifications for your business from the state or federal government, the IRS, and the courts.
Consult with a Professional Corporate Attorney
Contracts are important to a business. When a company buys materials from a supplier, a contract dictates the terms. When a company sells its goods or services, there are often contracts involved. Finally, when an entrepreneur is ready to sell their company, they'll need a contract detailing all of the business' assets and debts. Before any entrepreneur ever signs any contract, they should review it with their attorney.
Steve Touchy Attorney at Law has spent more than 37 years drafting, reviewing, and editing contracts for businesses of any size. His attention to detail and analytical mindset makes him a valuable asset to any entrepreneur. In addition, he's run a successful small business since 1983. That gives him a unique perspective on running a business that he can pass on to his clients.
Get Help with Your Corporate Law Case Now
Contracts are a great way to put the terms of a deal in writing. What happens when one party doesn't follow those terms? A business law firm can be the weapon you need to enforce the terms of your contracts. Steve Touchy Attorney at Law has helped countless clients resolve their business disputes through hard work, quick thinking, and negotiation. If that fails, you can trust him to aggressively argue your case on the courtroom floor.
If you need a reliable lawyer with more than three decades of experience in business law, look no further than Steve Touchy Attorney at Law. He's represented businesses in the Houston area since 1983. Call today for a business and corporate law attorney you can trust to handle your case.