Real Estate Attorney in Houston, Texas
There are many instances in which you may need a lawyer during a residential or commercial real estate transaction. Steve Touchy Attorney at Law provides a wide range of services related to real estate law. His services may include drafting, reviewing, foreclosure, and negotiating real estate contracts as well as representing clients in real estate-related litigation. When you need the guidance of an experienced legal professional in the Houston, Texas, area, call Steve Touchy Attorney at Law and get the attention you deserve.
Steve Touchy Attorney at Law has assisted and represented clients in real estate matters since 1983. He's garnered a reputation among his past clients as an analytical, detail-oriented attorney that always puts his clients first. Call him today for legal representation!
Benefits of a Residential and Commercial Real Estate Lawyer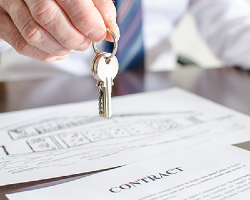 Many states require that you consult a lawyer before completing a real estate transaction. Texas isn't one of those states, but you should still talk to an attorney before trying to buy or sell a piece of land. Texas has some unique property and real estate laws that only a lawyer will understand. Some unique Texas property regulations include:
Homestead laws, which allow elderly or disabled people to keep their homes if they're facing foreclosure or eviction

Adverse possession rules, which allow someone to claim a piece of property that's not theirs if they pay taxes on it

Rules regarding leases and security deposits

Laws designating special rights for tenants
Texas also enforces some real estate regulations that are standard across the country including:
Eminent domain, or a way that the government can take land from private individuals

Property easements, which are legal rules that allow for entry or exit from a piece of land

Other land-use rules

Real estate tax laws
Steve Touchy is a Knowledgeable Foreclosure Attorney
Steve Touchy Attorney at Law has built a wealth of knowledge regarding foreclosure procedures during his 37 years of legal practice. That knowledge, combined with his tenacious and aggressive approach to litigation, makes attorney Touchy an expert you can trust.
Steve Touchy Attorney at Law is an invaluable asset when you are fighting foreclosure. He will review your circumstances and assist you with any of the following:
Filing documents with the court

Building a legal argument

Navigating court rules

Loss mitigation & loan modification
Speak with A Reliable Real Estate Law Firm Now

If you're looking for a law firm with the professionalism, experience, and discretion you need to handle your real estate issue, call Steve Touchy Attorney at Law. He's represented families and businesses in the Houston area since 1983. He can also offer the same high level of service you'd find at a massive firm with the personal touch and individual attention of a solo practice. If you need a real estate attorney who will dedicate his time to your case, call Steve Touchy Attorney at Law.