Wills Attorney in Houston, Texas
A will is one of the simplest types of estate plans. Humans have been using some form of a last will and testament since the days of the ancient Greeks. While wills have experienced significant changes since then, the basic concept remains the same: to pass your wealth to your beneficiaries. In today's world, a will is necessary. Without a will, an estate can be tied up for years in the probate court system. This is a long and costly process that can result in the government taking significant portions of the decedent's property. If you're thinking about drafting a will, you can avoid these pitfalls by enlisting an attorney to help. An inheritance law attorney will be able to advise you on which documents you should draft, including wills, codicils, and living wills. If you need a will drafted in the Houston, Texas, area, call Steve Touchy Attorney at Law.
Steve Touchy Attorney at Law has been drafting wills since 1983. During his 37 -year career, he has helped clients create personalized estate plans to achieve their unique goals for passing on wealth and assets. Regardless of the amount of property you own, a will is an important way to make sure the right people get your assets without having to fight for them. Call Steve Touchy Law today for a trusted lawyer.
Texas Inheritance Law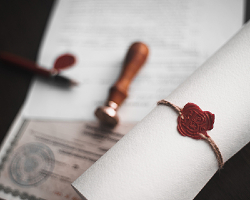 Keeping up with its tradition of fierce independence, the state of Texas has unique laws governing the inheritance of assets. Unlike most states, Texas does not have any inheritance taxes (although you will still need to pay federal inheritance taxes). This is great for someone who wants to pass on sizeable assets to their beneficiaries without having to pass any on to the government.
However, there are some draconian aspects of Texas inheritance law. For example, if you die without a valid will, the state will determine where all of your assets go regardless of your wishes. Even if you have a will when you die, the probate court will need to affirm that it's valid. The court can determine your will invalid for a number of reasons, including:
The document cannot distribute your assets properly (maybe you have assets that are unaccounted for or you outlived a beneficiary)

One or more of your beneficiaries contests the validity of your will in court

Whoever drafted the document did so incorrectly or failed to notarize it
In any of these scenarios, your estate will need to pass through probate court. This can lead to significant costs to your estate from probate court or attorney's fees. With this in mind, the need for a clear, concise, up-to-date will become obvious. The best way to make sure your will is airtight is to hire a wills attorney.
The Importance of A Wills Attorney
A wills attorney can also advise you about any documents you may want to add to your estate plan, including codicils or living wills. A living will, also known as an advance medical directive, determines a course of action for your next-of-kin if you ever become incapacitated but left alive. For example, if you have a seizure and are left in a coma, an advance medical directive can give your family members instructions on whether to remove you from life support or what treatments they should pursue. These documents are especially important to anyone with a known health condition.
Consult with an Experienced Wills Attorney Now
If you need a will or other estate planning document drafted in the Houston, Cypress, or Jersey Village, Texas area, trust a professional. Steve Touchy Attorney at Law has drafted countless wills and other estate planning documents for his clients for more than 37 years. He has the experience, knowledge, and determination to help his clients prepare whatever documents their estate demands. Call today to talk to a seasoned professional about your case.